Stay with us and ask about our
Golf Packages for you and your entire group.
Call today!



---
Shenandoah Valley, VA
Condo, Town House, & Chalet Rentals!
Only 2 Hours From Washington D.C.!
1.888.771.RENT (7368)
STAY & PLAY...VA Golf packages at Bryce Resort's 18-hole, par 71 course may be added to any rental.
All reservations will be required
to make a deposit on Visa, MasterCard, or Discover at the time of booking in the amount of 50% of the total reservation amount and security deposit. Security deposits will be added to the total reservation amount and released within 7-10 business days of checkout. No exceptions to this policy will be made.
---
The rates below reflect a two night stay. We are now accepting a one night stay. A three night minimum is required on Holidays and mid-December through January 1. Rates do not include 10% sales and handling tax. Rates are subject to change without prior notice. Creekside Rentals does not supply firewood to its rentals.

Click on your preferred property type below for a list of properties: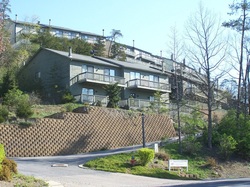 Creekside Village is a timeshare facility located within
the Bryce Resort Community, offering additional rental opportunities.
---
---
Rental Policies
Reservations

To book this reservation you must be 25 years of age or older. At check-in you have to provide a current driver's license or valid identification and an imprint of the credit card used at booking. When you book your reservation, we require full name, address, telephone number, and a Visa, MasterCard, or Discover. To guarantee a reservation we require 50% of the total reservation amount to include the security deposit to be processed on your credit card at the time of booking. A confirmation letter with instructions will be mailed upon receipt of this information and the completed charge of 50% of the total reservation amount. The remaining rental balance is due 30 days prior to arrival.

Security/Damage Deposit

A valid credit card (Visa, MasterCard, or Discover) will be necessary for all reservations. A refundable security deposit authorization of $300.00 is required and will be added to your reservation total. This deposit will be released no later than 7-10 business days after your departure, assuming there were no damages, missing items, or additional cleaning required. NO EXCEPTIONS. Any damages exceeding this deposit will be placed on your credit card. You will be charged for breakage or damage done during your visit. You will be charged full replacement cost for missing linens or other items.

Cleaning

Please leave the property clean and in similar condition as when you arrived. Linens must be removed from beds and place in the bath tub or shower. Dishes must be cleaned and returned to original location. Upon leaving all trash must be taken to the dumpsters on Rt. 263 East which are approximately 4 miles from the Resort on your left. If your rental house has large cans with lids you may place trash in those bins and take to the top of the driveway for pickup. Excess trash that will not fit in the bin must be taken to the dumpsters. Not completing the departure checklist may result in charges being deducted from your security deposit.

Keys

The credit card presented at the rental office also acts as a "key deposit." Should all keys not be returned, your credit card will be charged a $100.00 fee. Keys must be returned to the office from which you picked them up.

Method of Payment

We accept Visa, MasterCard, Discover Card, cashier's checks, money orders, and cash on arrival to complete your rental payment. All deposits must be made with a valid credit card at booking.

Forgotten Articles

Creekside Rentals is NOT responsible for lost, stolen, or forgotten articles. It is the guest(s) responsibility to contact FedEx or UPS to schedule a pickup of the items left behind. Creekside Rentals does not ship forgotten items.

Cancellation

You must provide at least 30 days advance notice to cancel or change your reservation without penalty. All cancellations within 30 days of your arrival date will be subject to a cancellation fee of $100.00. If we are able to secure another reservation there will be no further fees. If we are not able to book another rental, your entire deposit of 50% of the reservation amount will be forfeited. Changes to a pending reservation will only be allowed 30 days prior to the arrival date and may be subject to a minimum processing fee of $30.00. No changes will be accepted within the cancellation deadline. All cancellations within 24 hours of an arrival date and "No Shows" will be responsible for the full reservation balance and automatically forfeit the deposit of 50% of the reservation amount. This policy may also apply to reservation changes or transfers to another property and is subject to change without prior notice. Refunds will not be made for unfavorable weather conditions.

PetsAsk our rental experts if there are any properties that allow pets. Telephone Calls

Not all rentals have telephones. If they do there is no charge for any local call. Long distance calls from your unit require a calling card (MCI, Sprint, etc.) or cell phone.

Firewood

Firewood may be purchased from the Community Store, located on Rt. 263 just past the entrance to Bryce Resort. Creekside Rentals does not supply firewood for any of its properties.

Late Arrivals

All guests arriving after rental office hours must request a leave key in advance. The full rental amount must be paid in order for a leave key request to be completed. Upon completion of payment, we will provide late arrival instructions and the code to the lock box where you will find directions, a map, and keys to your rental property. There will be a rental contract attached to your envelope for you to sign and leave in the lock box to complete your check-in.

Trash Removal

Not all of our private home rentals have trash pickup so if there are no trash receptacles at the top of the driveway it is your responsibility to remove all trash. There is a dumpster on Rt. 263 East (on your left) on your way home or in Orkney Springs which is less than 5 miles from Bryce Resort. For directions to the Orkney Springs dumpster please call the rental office. If there are trash receptacles outside please make sure all trash is bagged and in those containers. You are responsible for disposing of any trash that does not fit in the outside receptacles. Failure to remove your trash will result in a charge of $10 per bag.